Direct MediaSimply We Are Direct
Graphic DesignsLogos - Corporate ID - Ads Campaign
E-MarketingSocial Media & Google Ads Campaign
Video AdsVideo & Motion Graphic Ads
PhotographyProducts Photo Sessions
Websites
& Web ApplicationsDesign - Development - Domains - Hosting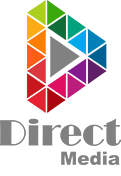 Welcome to Direct Media
Direct Media is a leading company in the field of media in all its forms and image from the design of the logo and identity and through electronic marketing and design and programming sites and applications.
Your Choice of Us Makes You The Best
Customer Support
We provide a high quality technical support and the best after sales services, in order to achieve the full clients satisfaction.
Deadline Fulfillment
The company is fully committed to the delivery schedules of the agreed contracted projects to ensure a high quality standards of products and services.
Many Tons of Free Services
Always try to keep in touch; to make sure not to miss our regular offers, sales, and giveaways.
Quality & Mastery
We provide the best, mastrey, and high quality services to the media field with attention to the smallest details.
Excellent Team
We provide the highest level of professionalism and great experience in the media field; because we possess the latest technology being used by the best specialists.
Quickness & Accuracy
We are distinguished by the quickness of implementing the job accurately and on time. Our high pace has never affected the quality of the service we provide.
Media Field Experience
Our team is one of the most experienced teams in the media/multimedia field, where we provide you with more than 8 years of experience.
Suitable Prices for Everyone
The prices we offer are considered the most suitable prices in the market, compared to the high quality of service we provide.
Direct Media
Direct Media is one of the leading company specialized in design, development, advertising, and marketing. Including all marketing campaigns and company's strategic development plans for both profitable and non-profitable institutes/organizations. Starting from the important process of designing the logo/trademark throughout the full process of designing the complete identity "The process known as Branding". We don't stop there, we take your brand and advertise it all over the social media platforms. We also design and develop websites and web applications for both individuals and companies, plus advertising the website on most of the well-known search engines. We can also produce and direct all types of documentaries and advertising movies for you, which helps advancing you or your company in the market, and make sure that the customer gets the idea with a higher effect and interest.
0
Clients All Over The Middle East
0
Years Of Experience In The Media
0
fully Integrated Media Services
Company Founders & Department Managers