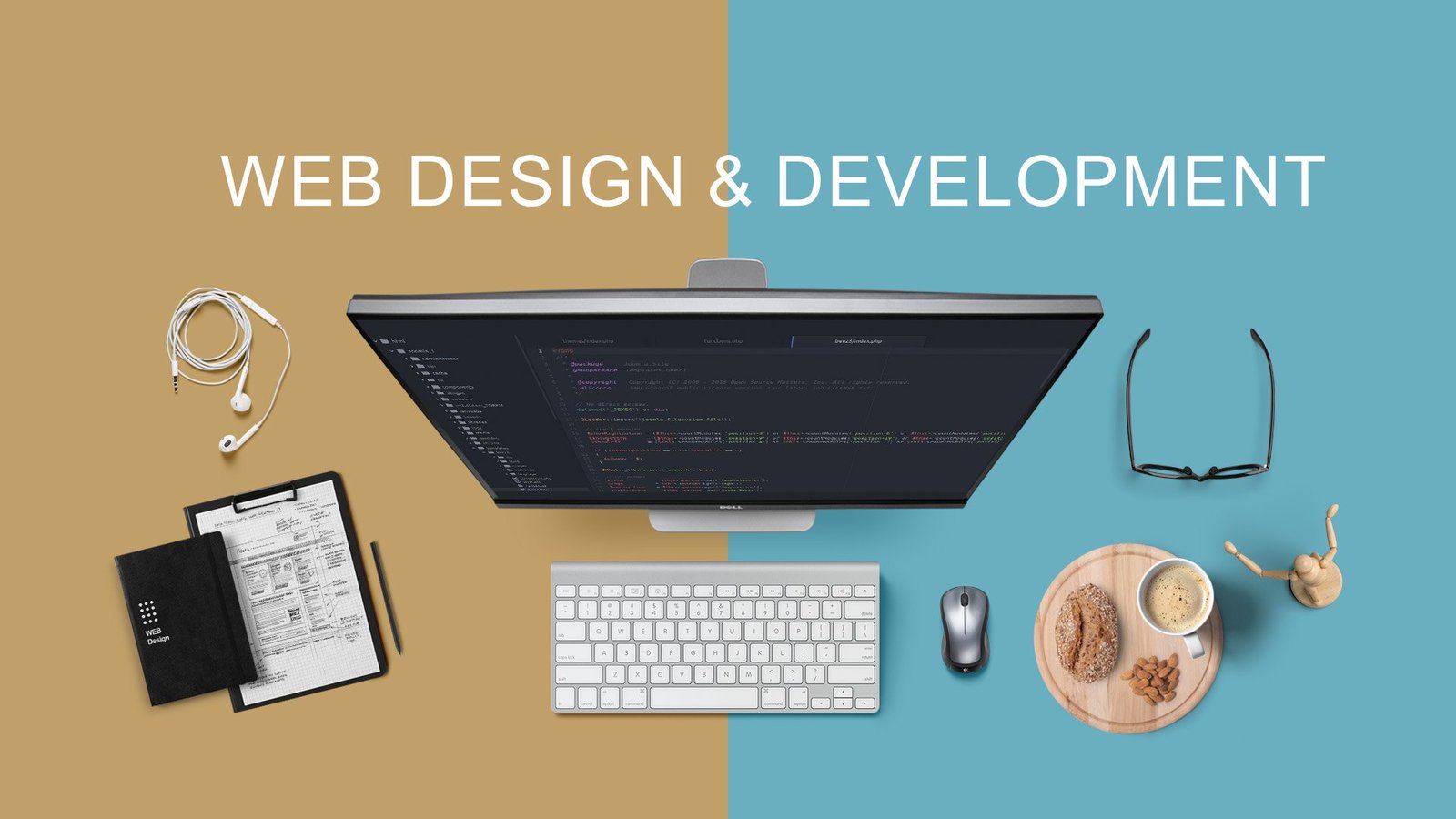 Web Design and Developing
Creating a website for your project, whether small or large, is a necessity and not a luxury. As your customers expect you to have one. The websites now are the modern interface that reflect the "value" of any business. But it's not just a facade of your business, it's more than that. Having a website is like hiring an official spokesperson for your company. An official spokesperson that is talking all the time in a tireless and restless fashion. Websites do not feel tired and do not hesitate to provide repeated questions with "useful" answers that save time and value.
Not having your own website, makes you lose a lot every day
A few years ago we knew nothing about the Internet, but the importance of the Internet was quickly discovered in the business world and marketing, which then developed into using the Internet as a sophisticated mean of advertising in the businesses field. Without a website you lose many potential customers and give your competitors a great opportunity to excel. Having your own website has many advantages including:
Website is less expensive and more flexible
The website is completely different from printed advertising, since the cost is much lower and the access to your ads is much larger. It allows you to modify your ads at any time you want, and you do not need to be technically familiar with the computer methods to do so. You can change the content of your ad by yourself through the Content Management System and in terms of return on investment, the website is the best value for money spent since the establishment of a website is an investment not an expense, in other words the website becomes "permanent property of you or an asset" unlike publications that you do not own and cannot edit after printing.
The website has no barriers
The Internet has made the whole world a "small village" where we can find any information we want about the any other or products we want, so when you own a website you can write everything you want about your products, and services to save time and effort for your researcher to reach you. Thus, you are also expanding the boundaries of your "product market" because the world can see it. Owning a website is a powerful investment for your business; because it expands your customer base from the local level to the international level, possibly also to the global level. Owning a website also keeps you up with new market developments.
Your Website will never make you "Offline!"
If you create a website, you will not lose customers when they come to your work place and find it closed. You will not use the "now closed" Phrase for any reason, whether for holidays or else. You will not have to be bound by the working hours; because your website provides services to your customers 24 hours a day, seven days a week and all days of the year.
The website helps grow your credibility
Creating a website adds credibility to your business and shows your potential customers that you are serious about providing the best services and/or products. It also shows that you are keeping abreast of technological development. Companies that are known to keep abreast of technological development are also known to keep abreast of the latest innovations in their field. Customers will trust you more and know that you will provide them with the best services and products in the market. The website also gives you the opportunity to let your potential customers know what you are doing and why you deserve their trust.
Do you know that some people use the Internet as a mean of evaluating a product before buying it to know whether a particular company or product is worth it or not? Through the search they can judge you and if you provide a good service they will also spread the word.
The website provides convenience to your customers
So far, searching for a service or product on the Internet is more convenient than getting customers out of their homes, riding their cars and going somewhere to search for the service or product they want and will not have to stand in long lines. Your customers can browse your site at anytime and from anywhere that suits them with the utmost privacy and confidentiality without facing the pressure and distraction that occur to them in the real world when trying to get information about your products and/or services.
Your website is an innovative way to increase your potential customers rate
Creating a website will keep you up with your competitors in the market. If your competitors have websites, they will increase their chances of getting potential customers from search engines who search for services or products they provide. Imagine that you do not have a website, which leads to the loss of all these opportunities and all these customers, while your competitors will outshine you here. Having a well-designed website will also be a means of advertising and expanding your business, gaining customers alongside traditional customers, and opening up a new market for you. Social networks such as Facebook, Twitter and Google Plus become a "preference" mean of a product or service (share, like, tweet) between friends, relatives and others. All you just need is to provide a "location" and the preferences can deliver your message to many interested people/customers.
The website attracts more suppliers
Your website will not only be seen by customers, but will also be seen by suppliers who may ask you to sell their products through your website, which will consequently expand your business. It is known that if you have a lot of suppliers, you will provide the desired diversity of your customers with an acceptable price for the product or service you provide.
Your website will protect your brand name and trademark
Having a website is not only an advantage, but a way to protect your company name and brand as well. Because there is a risk if you do not have an online presence that someone else may use your company name as a name for his domain, yes there are some recently enacted laws to protect property rights, but it is possible for someone to innocently use your company name as a domain name. This is also a bad practice in unfair competition that your competitors use your company name and brand to make some pages on social media platforms that can be used to destroy your reputation. So, getting there first, will protect your company name and brand.
Your website lets you get feedback from your customers
With your online website, you can conduct an integrated search of your customers' needs through surveys and polls to find out what your customers like most, and what they think about your business, and then improve your products and determine the way you run your business due to your customers needs. This is done through the same website and at a much lower cost than any other search/research method.
The difference between static and dynamic website
Simply, the difference between static and dynamic site is the control panel. Static website does not normally have a control panel or a database that enables the site's owner to modify, edit, delete or add content to it at any time.
Dynamic website has a control panel and a database that allows you to add, modify and delete data or content from it in the most flexible way with many other capabilities; this is why the price of the static website is much less than the dynamic and to be practical in choosing exactly what suits you, you must be well aware of what you need. If you need a simple website that you do not modify it or modify only within a large period of time, the static website would be more appropriate for your needs, but if you are a news website or a large company that cares daily with the adding new offers, news, other stuff and seek to interact with the your visitors on a daily basis, it must be a dynamic website, which contains a control panel and an integrated system to manage the content of the website correctly.
Specifications of the successful website
Attractive design and modern colors
the website design is the first thing a visitor notices, and it is the first impression that expresses the company's size, quality and mastery of the services and/or products it offers. So, we grant a great attention to the design, with the consideration to the use of modern and attractive colors.
Compatible with all devices (Responsive)
Your website must be compatible with all browsers, modern devices, mobile phones, tablets, etc. We guarantee that your website will be compatible with all these devices with ease, comfort and elegance.
Search Engine Optimized
Your website is your main interface and is often been accessed to that interface through search engines, so we ensure that your website is search engine optimized and that the search engines do not find any difficulty to index, access it , and identify the pages with the best flexibility.
Fast browsing (Page Speed)
It is normal for visitors to get bored of slow websites or website which is not compatible with their expectations while browsing. There are many reasons to make your website easy, fast and responsive to visitors and thus we use very fast and safe US and German based servers, with concern to the size of files and data during the design and coding of the website.
Our services in website design and developing
Design
The first thing visitors are looking for in your website is -of course- the design. The more attractive and dazzling the design, the more powerful your business is, the more positive your website and company will be. We have gathered a team of creative designers to ensure that your design will be attractive, distinctive and serves the desired idea.
Programming and Development
Direct Media provides you with a team of professional programmers. Programming and developing service is one of the main services of our company, in which we aim to meet all the requests and needs of our customers and to provide them with the best solutions and modern technologies in the world of programming and development. We also provide the service of developing tailored systems according to your specifications.
Hosting plans and domains registration
To ensure a stable service and a fast website while enjoying a high degree of efficiency and protection, it is necessary to use a fast and strong server to host your website. Therefore, Direct Media always offers its customers plans and offers that suit all needs through modern German and American Data-Centers, that guarantees their speed, efficiency, protection and confidentiality. We also provide domain registration service (Domains) and we will remind you of the annual renewal dates, plus technical support around the clock.